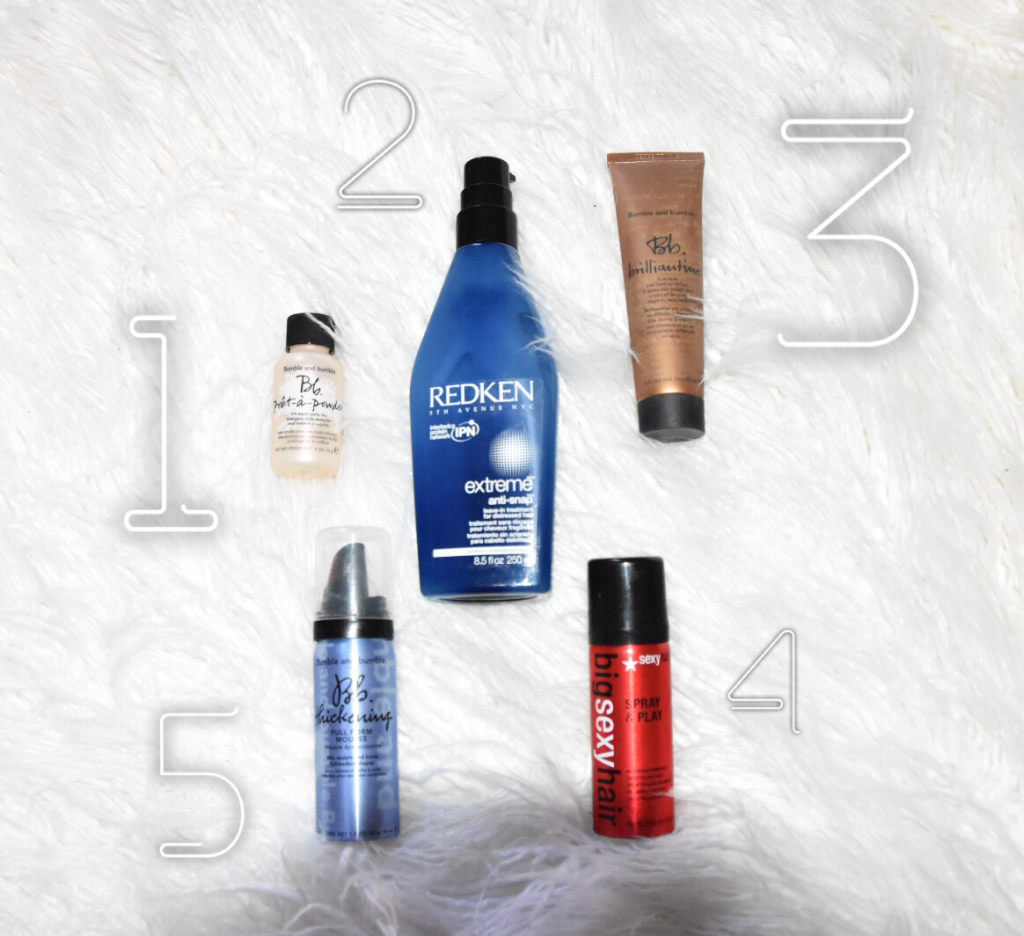 At fall fashion week a few years ago, an editor asked me if I was from Texas.  Considering I don't have even a hint of a twang, this has caused me to ask a lot of questions about myself.  I mean, my thing for cowboy boots is practically bordering on the romantic…but other than kicks and resting nice face, what about me screams Lone Star State?  Then it dawned on me.
Two simple words:  Big.  Hair.
Yes, you could say I have a volume fetish.  Though I have quite a lot of it, my tresses could be described as fine and generally in need of a boost.  My hair dries stick straight out of the shower, but without product, I run the risk of looking like the little girl from The Ring.  >shivers<
Anyway, as I've been getting lots of questions on Instagram lately about what products I use, I decided to share a few of my favorites.  What collagen injections are to lips, these little tubs and tubes are to strands.  Happy plumping!
1. B & B Pret-a-powder: I don't step foot onto an airplane or tour bus without this teeny multitasking product.  Haven't washed your hair in 4 days? No problem.  A few shakes of this dry shampoo and you'll look like you just had a blow out.  It's great for greasy roots and gives a subtle boost without desperately trying to wash your hair in the hotel sink AGAIN.
2. Redken Extreme Anti-snap:  Between highlights, sun, snow, curling irons and last minute dips in over-chlorinated pools, my hair regularly takes takes a Ronda Rousey-style beating.  I've been using this product for years to smooth the cuticle and help keep the ends as healthy as possible while I avoid haircuts with the same passion I avoid decaf coffee.  A pump or two on wet hair is a lifesaver.
3. B & B Brilliantine:  If I told you I understood exactly what this product is, I'd be lying, but I'm not lying when I tell you it's made of sexy magic.  They did a study and everything.  I like to use a little dab on day-after curls to create a slept-in, tousled and piecey lion's mane.  Rawr.  (<- Last time I ever use that word, hopefully.)
4. Big Sexy Hair Spray & Play:  This hairspray is super light, but packs a punch in the hold department.   It's awesome for setting styles, curls or taming fly-aways.  Pro tip:  Flip your head upside down, spray the underside of hair, flip head upright again, watch blood drain from your face (I assume that's the "play" in "spray & play." Now smile.  Because girl, you look gorgeous and your hair is like a glorious waterfall of diamonds and shine.
5. B & B Full Form Mousse:  This is an extra step for maximum body.  I use a dollop on damp hair before blow-drying.  The heat activates the product, adding lift and hold.  It creates a good base for styling afterward and turns up the volume from warm to broil.  Don't overdue it with this one or your hair feel like your thighs after leg day at the gym.  A half of a palmful goes a long way.
Now time to share.  What are your must-have hair products?