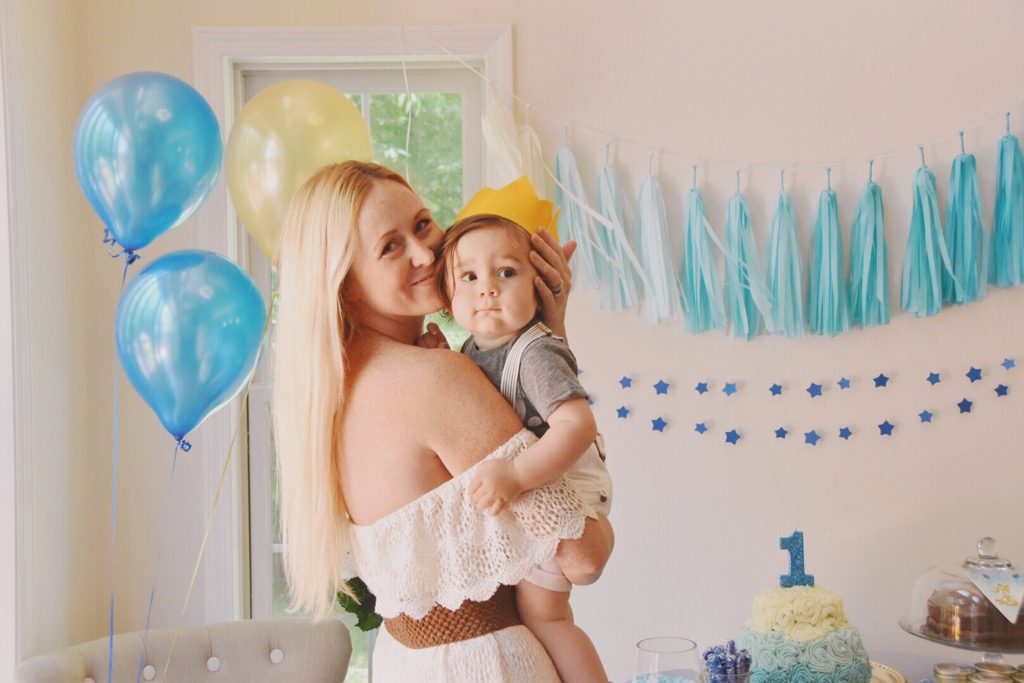 The ability of a child to simultaneously hit the fast forward and pause buttons on the universe is incredible.  More often than not, I feel like I'm sitting in a parked car with a movie screen of a highway blaring by the windows.  My grasp of what "time" means completely went out the window when Atlas was born.
I've been mentally preparing myself for his first birthday from the second I met him.  Don't get me wrong–this girl LOVES a party.  I've always been a big proponent of celebrating birthdays properly.  I think it's important to acknowledge the year gone by and your own personal growth.  Also, cake.  And ice cream.  Seems like a no-brainer.  But for my own offspring, I knew I wouldn't be ready for the occasion, that it would feel like he was growing up too fast.  Then the week came…
And I turned into a crazy person.  I googled bouncy houses  (never mind that my kid doesn't walk yet, let alone bounce!) I frantically searched Etsy for ornate paper tags that I could write the names of desserts on (never mind that none of the children attending could read yet!) I vowed to document every minute of that last week in the vein of the awesome Youtube parents who take a video clip of their kid every day then weave them into 20-minute long montages on the child's 18th birthday.  I collected images from Pinterest like some kind of visual hoarder.  I would finally design and print elaborate, beautifully-bound books of his first year, chronicling baby's precious moments, favorite songs, the color of his first poop.  And so on…and on.
Spoiler alert:  I failed.  At pretty much all of it. Except crafting a "Where the Wild Things Are" style crown from a tutorial I found on Bev Cooks (it was adorable and I have no regrets.)  My layer cakes turned all shades of the wrong colors.  The blueberry lemonade clogged the dispenser.  My goodie bags fell apart.  We ran out of rice and beans.  The deck surrounding the kiddie pool and splash table got too hot for little bare feet.  Atlas barely even poked at the tiny smash cake I nearly cried over not having enough icing to frost.
The pressure of parenting–of curating every perfect moment, of cataloging each milestone in a frenzied panic to not miss anything, of showing our love through matching flatware and color-coordinated invitations–can be heavy, if we allow it to play chicken on our shoulders.  Especially when it's going head to head with two-dozen helium balloons and a Brobee piñata.  Although it goes without saying that it's our love for our littles that matters, it can't hurt to remind ourselves every now and then.
What I didn't fail at was staying up late to give my almost-toddler extra kisses…marveling at his little hands…reminiscing over photos from the day he was born with Husboy.  The day Atlas came into this world was a birthday for us as well.  We became guardians, play mates, shields, cheerleaders.  I think about it every day.  Every moment, I'm grateful for our son and the richness he's brought into the universe.
The party was a blast.  Our incredible friends and family made the day memorable.  Atlas is undeniably fortunate to have been surrounded by people who love him and support him for his first year on this earth.
I can't wait to see what year 2 has in store for us.  Hopefully it's every bit as perfectly imperfect as this one.
(A special thanks to these crafty shops for helping make the day beautiful.)
ATLAS'S SHIRT: Lil Threadz || DRESS: The Nomad Truck || BLUE TASSEL GARLAND:  Genwoo Craft  || STAR GARLAND: Eye Popping Creations