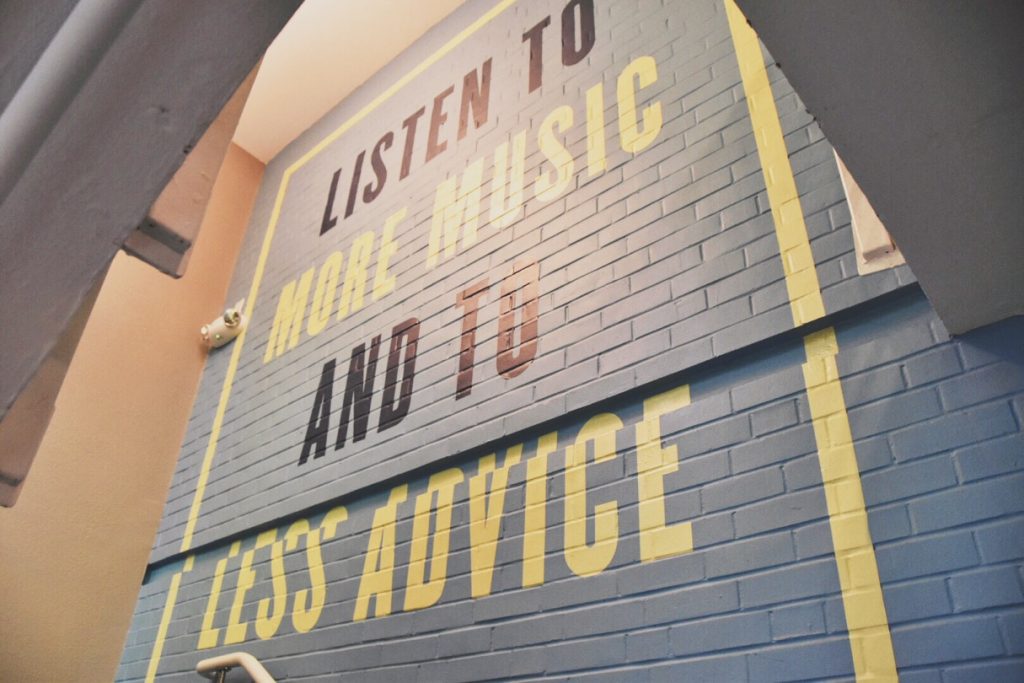 We spent the last few days in Boston, kicking off Husboy's tour at the House of Blues and giving him a proper wild sendoff.  The days of throwing glasses on the floor, staying up until the wee hours and trashing hotel rooms are over…just kidding–they aren't over.  Only it's the 2-foot tall little person we travel with now doing those things instead of the adults.  Truth be told, we've never been true party people.  For as long as I can remember I've been the first one in bed.  When I was in elementary school, I would invite girls from school to sleep over…then promptly fall asleep at 8PM, leaving my mom to entertain them.  As an adult, I married a man who goes to bed even earlier than I do when we are home.  It's glorious.
I'm a Taurus and comfort is my happy place.  I have a serious soft spot for textures, linens, lounging and eating good food, which is why I'm always a sucker for a cool place to hang our hats on the road.  This trip, we stayed at the Verb Hotel in Boston, across from Fenway Park, a music-centric boutique property packed with Rock & Roll memorabilia and jolts of color.  There's vinyl in the lobby to listen to, an electric guitar to play and loads of Bowie relics (sad face) lining the halls.  Atlas loved tapping away at the vintage typewriter in our room.  I loved the Midnight Munchie menu at Hojoko, the James Beard Award-recipient owned restaurant attached to the hotel.  Nothing wrong with late night ramen after a rock show!  Everyone wins, really.
My favorite part of traveling with my mini-family is getting to explore a place from a different perspective. Husboy and I have seen hundreds of cities across the world together.  We have our tried-and-true spots in many of those cities;  restaurants, comic shops, bars, book stores.  Now with Atty, we have to broaden our horizons a bit to incorporate his interests (and boundless energy.)  Parks, aquariums, independent toy shops and kid boutiques have been added to the list of spots to stop in every city we find ourselves in.  Considering the world from a new perspective–whether the eyes of a child or a camera lens–forces you to think about what is valuable…what should be included in the frame.
In contrast, keeping a toddler entertained in hotels, eateries (and in this case, through days of band practice) forces you to think like a parental MacGyver.  I swear I could fashion a diaper out of hotel key cards and guitar strings at this point.  Here are a few of my favorite hacks and packs for quick distractions for the under 3 crowd:
Fill an empty spice container with a few crayons, a roll of stickers and a folded piece of paper to throw in your bag for restaurants.
Wind-up toys.  They are easy to pack and you can improvise creative play or just kill time in small quarters.
Flashcards.  You can use them for language skills, matching, item recognition, learning letters…if all else fails just throw them in the air and play "clean up" while mama takes a deep breath.
Magformers.  I bring 6 or 7 of these shapes in my bag for impromptu design sessions.  Atty is mesmerized by magnets and will typically spend a half hour or so playing with these.  [Just be sure to watch them closely as they could be a choking hazard if broken.]
Name everything in the new space.  Point out items they know already and things that are brand new.
Hotel jam sesh.  Make drums out of hotel pens and foam coffee cups.  Smack small shampoo bottles together.  Crank up the music on your phone.  Dance around like the biggest idiot in the world.  Kids love dancing idiots, I promise.
Teeny, tiny snack items.  The kind that seem to take houuuuuurrrrssss to eat.  I like Plum Organics Teensy Fruits for this.  They're a full serving of fruit, but only slightly larger than a sprinkle, so they keep mini hands occupied.
Cut them–and yourself–some slack.  Routines are hard to stick to away from home.  Naps might be missed.  Overstimulation abounds.  Sh*t could get real.  If an episode of Daniel Tiger (or in our case, the first 20 minutes of Star Wars) is going to keep the peace and avert a massive meltdown that could take an hour out of your day and years off your life, don't beat yourself up.
ATLAS' LOOKS (so many pieces are on sale now at the links!)  Kylo Ren Sweatshirt|| Grey Leather Pants || Ombre Long-Sleeve || Dr. Martens Brooklee || Grey Turtleneck Tunic || Grey Biker Jeans || Pizza Shoes || Gorilla Jumpsuit