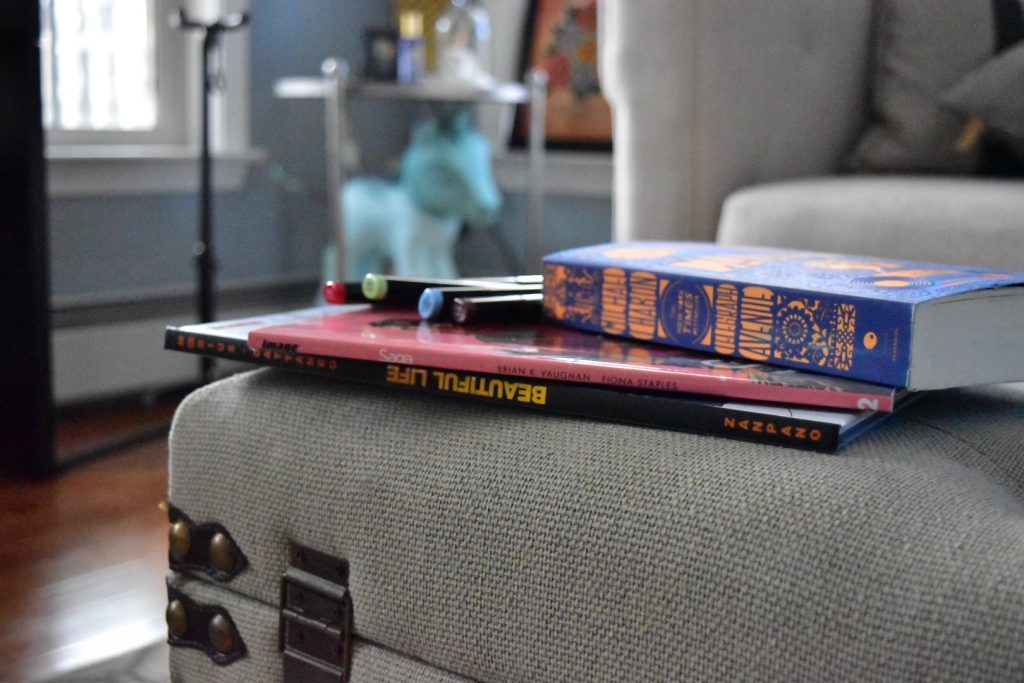 Suggested Read: Saga.  If you're not already reading this graphic series from Brian K Vaughn, illustrated by Fiona Staples, you're missing out on what is sure to become a classic in the genre of not only comics, but fiction in general.  It's fun and dirty and diverse and beautiful.
Visual Inspiration:  Beautiful Life.  A wordless take on surrealism,  drawn by Moebius and Cattanéo.  Quirky and simple, but an excellent reminder of how to frolic around in the visual storytelling medium as I work on a new project.
To Get Around To: Telegraph Avenue.  This one has been on my "to-read" list for a while.  It's the most recent novel from Michael Chabon of The Amazing Adventures of Kavalier and Klay fame.  Looks great, though novels are a hell of a commitment these days with the wee man demanding so much attention.  Taking a shower stands as the priority.  But someday, Telegraph Avenue…someday soon, you and I have a date.
Current Daily Obsessions:  Copic Markers (perfect for what I call 'artsing'…defined as poorly sketching sleeping babies and coloring in the heads of stick figures.) Adirondack Creamery "Earl's Chocolate Peanut Butter" Ice Cream, Darkroom App for iPhone