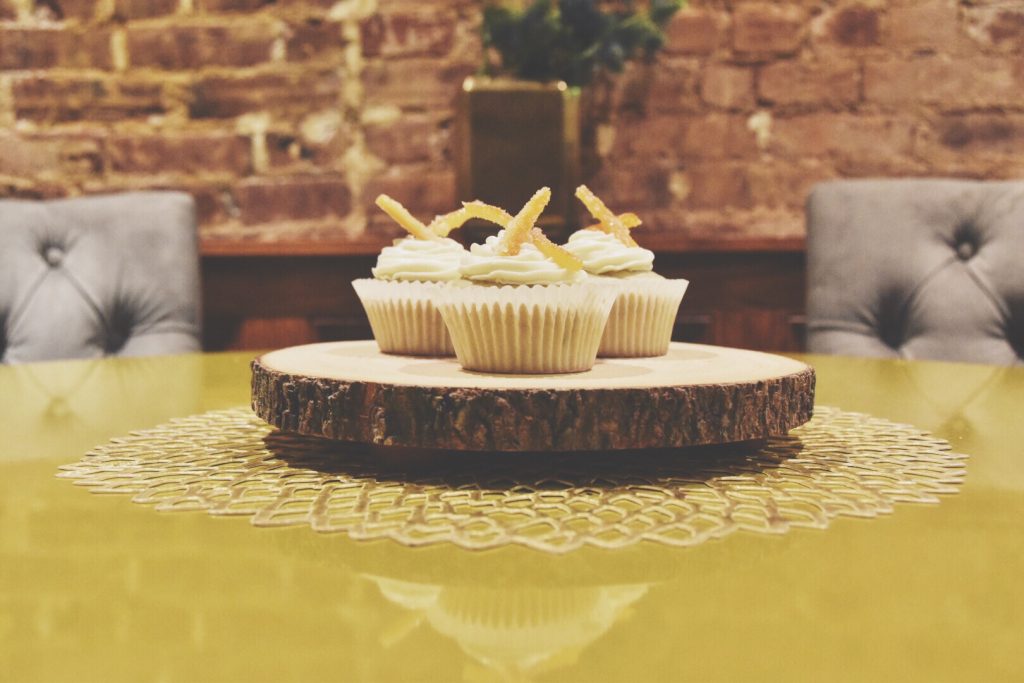 I'm a firm believe that you never need an excuse to make a cupcake.  This recipe, however, will lend itself to loads of different occasions if you do find that you need to justify making something sweet–none of which involve a bouncy house or animatronic rat dancing with a cast of other freaky robot creatures.  Yes, with the sophisticated flavors of blood orange and champagne, these cupcakes are for the adults–though they don't contain any actual alcohol, so they are technically kid-friendly.  You could make them for a grown-up Easter brunch or as a light spring dessert.  In my opinion, they're best served with a glass of bubbly on a Saturday afternoon, even if you have to lock yourself in the bathroom to avoid sharing with tiny open mouths who seem to have some kind of built-in sugar radar.  Don't worry…this is the judgment-free zone.  Happy baking!
BLOOD ORANGE MIMOSA CUPCAKES (makes about 16)
1 c. sugar
1 stick butter at room temperature
2 eggs
1 tsp. vanilla extract
1 tsp. Amoretti Mimosa Extract
1 tsp. grated blood orange peel
2 tbsp. blood orange juice
1 3/4 c. flour
1/2 tsp baking powder
1/2 tsp. baking soda
1/2 tsp. salt
1/3 cup yogurt (vanilla or plain, I like Greek for this)
2/3 cup whole milk
FROSTING
3 c. powdered sugar
1 c. butter
1 tsp. vanilla extract
1 tsp. Amoretti Champagne Extract
1 tbsp. heavy whipping cream
CANDIED PEEL (OPTIONAL)
Preheat oven to 350 degrees. Line muffin tin with cupcake liners (or use free-standing silicone liners and arrange them on a baking sheet.)
Place room temperature butter in large bowl. Beat on medium speed using stand or hand-mixer for about 1 minute to soften, then add the sugar and mix for 3 minutes until the mixture is fluffy as a cloud. Add in the vanilla, mimosa extract, orange peel and juice, then add in the eggs one at a time, mixing in between.  Mix in the yogurt.  Set aside.
In separate medium bowl, whisk together the flour, baking powder, baking soda, and salt.
Add in about 1/3 of the dry ingredients, then 1/3 of the milk, mixing until most of the flour mixture is incorporated.  Do this for the remaining ingredients until they are all combined, then gently stir the batter, making sure not to overmix.
Scoop the batter in the liners, filling them about 2/3 of the way. Bake for about 15 minutes or until tops are golden and slightly rounded. Remove the cupcakes from the hot pan so they don't continue to bake and dry out.
While the cupcakes cool, whip up the icing (pun intended.) Using a standing mixer with a whisk, mix butter and sugar on low until blended, then up the speed to medium and beat it (just beat it!) for about 3 minutes. It should start to get nice and airy. Add in the vanilla, champagne extract and cream, beating for another minute or so. You can always add a little more cream if needed.
Make sure the cupcakes are cooled off before icing or you'll have a melted buttery mess on your hands. Frost with the decorator's tip of your choice, garnish with candied peel and enjoy!