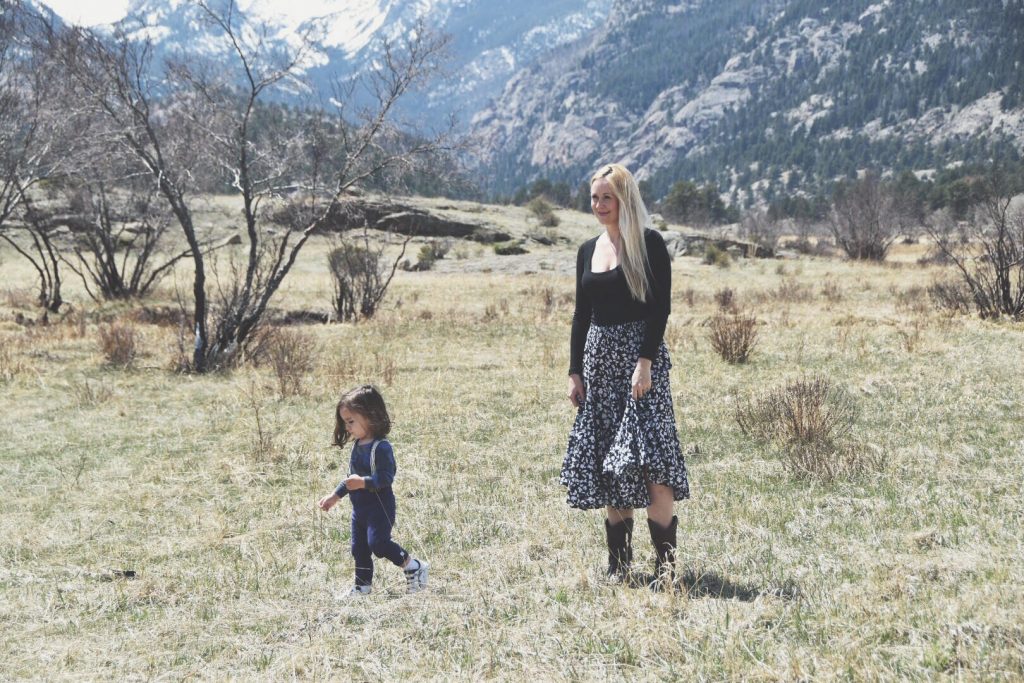 Though I've been slow to post these pics from Rocky Mountain National Park, it's important to note–that place is absolute magic. Picturesque streams dotted with elk and deer roaming free, expanses of tall grass to run in, ridges of perfectly snow-capped mountains even in the summer time…pure bliss for a fiery toddler. We kicked off our shoes and splashed in the (very, very cold) water a while, while hunting for glitter-flecked stones. I try to remember to bring home an 'organic' souvenir for Atlas, wherever we go, to add to his travel treasure collection; shells, rocks, dried flowers and sea grass are both beautiful things save and cool sensory items for tots. Someday I'd like to make something from all of them–maybe a little shadow box he can hang onto and remember that the world is a great big place filled with amazing things. We'll see…'creating goals' are something we have no shortage of around here. 'More time,' however, has been on backorder for a couple years.
While in Estes, my family stayed at the Lodge, a rustic, tchotchke-filled cabin in Pine Haven. It's close to the entrance of the park, as well as the downtown area, a bustling little village lined with souvenir shops and old-fashioned candy stores. Pine Haven is a pensive place, yet warm and totally kid-friendly. If I had visited kid-free, it would have been the most incredible time to write and be inspired by the surroundings (ala Stephen King who brainstormed a little story called "The Shining" while staying at the now infamous Stanley Hotel nearby.) But alas, with Husboy on tour, this trip was for mama & me memory-making, not locking myself up in a quiet room to work. Atlas loved hiking around the property, feeding the chipmunks and watching the onsite stream. I should also point out the owner of the property, George, is just so lovely. He even dropped off handmade jewelry for us and trinkets for the kids. I mean…how adorable is that?
After enduring record-breaking heat and humidity in NYC all weekend, I think we're overdue for some more dry mountain air. What's your favorite mountain destination?
SHOP MOUNTAIN STYLE