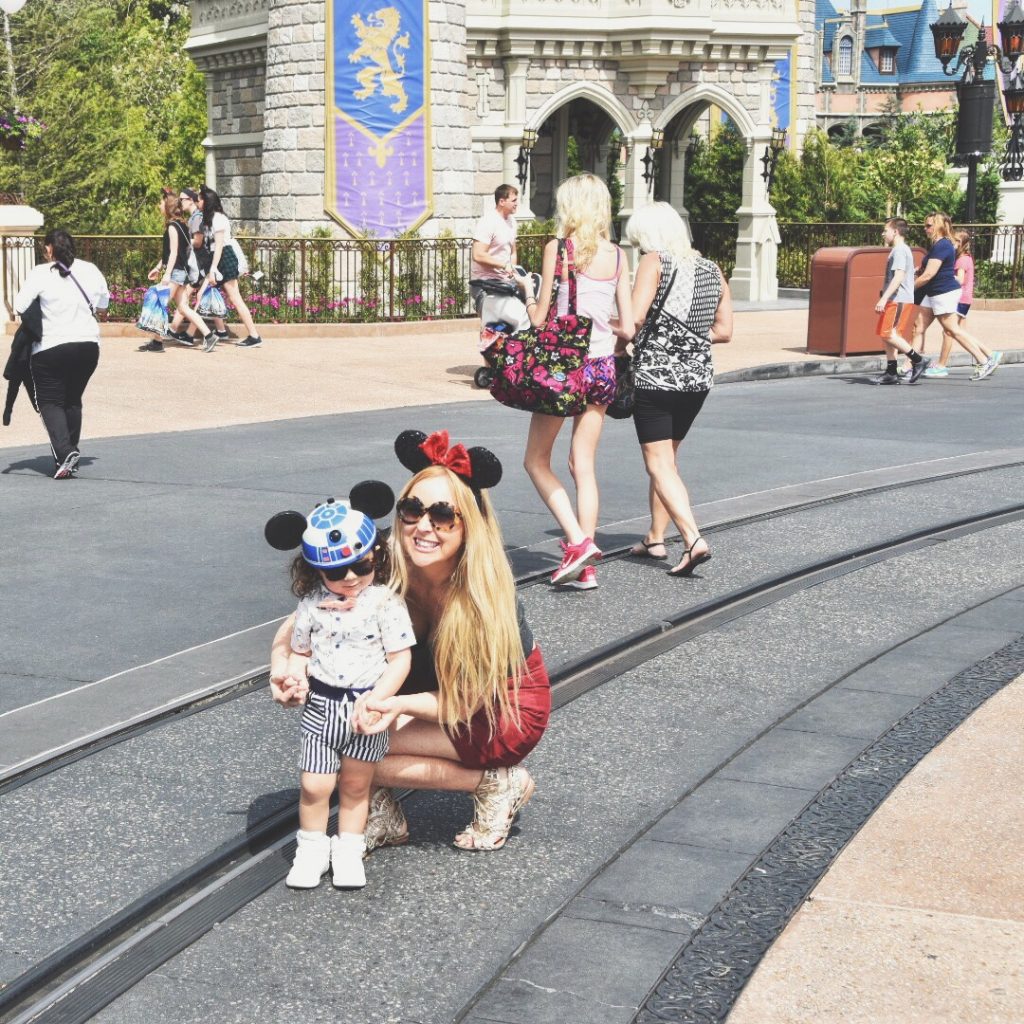 Growing up about an hour and a half from Disney World, it's easy to take it for granted.  We always had season passes and would regularly visit the parks as kids (although to be honest, my parents always preferred the theme parks where they could have a beer or two while corralling us from ride to ride in the soaring summer heat.)  I suppose I was always Disney-obsessed–religiously watching every film and memorizing every word, belting the epic ballads in the car, steadily adding princess dresses to an ever-growing collection of plush Goofys and Simbas.  When I was 8 or so, my best friend Charlotte and I put on a Little Mermaid play, carefully crafting costumes out of household items.  Twirling batons for eels.  Our moms' hosiery stuffed with paper as fish.  Dragging our little siblings onto their marks to recite their lines as Sebastian and Ursula (and forcing them to do it all over again if their 4- year old performances weren't up to our standards.)  Our parents sat through every showing, patient, humoring us before cell phones were around to serve as a distraction when your children are screeching through their 5th rendition of Kiss the Girl, while smooching on a Ken doll amended with black nail polish to look like Prince Eric.
Now that we live so far away from the Happiest Place on Earth and have a child of our own, I jump at any chance to visit.  This latest venture marked Atlas's second foray to the Magic Kingdom.  The first was when he was a mere 4-months old.  The day basically consisted of us accidentally dropping a glass bottle of breast milk in the line to see Mickey Mouse…then running embarrassedly back to the Ferry.  At almost two, this trip was significantly more amazing.  He was thrilled to ride anything he was tall enough to get on, spinning in teacups, flying high with Dumbo, twirling round and round on a carousel horse.  He watched the Princesses dance at Cinderella's Castle, hugged Daisy Duck, hid from an enormous metal dragon in the parade and gave Minnie Mouse a very sweet kiss right on her nose.  Thank goodness my mom was able to spend the day with us–I loved watching him tug her all around, exploring with her.  There is really nothing like having grandparents in your life.  And grandma at Disney World?  Pure magic.
Magic Kingdom Life Hack:  Parked and want to take the monorail to the entrance, but there's a huge line to board?  Take the monorail marked Resorts and get off on the third stop.  There is typically a much shorter line and it's only takes a minute or two longer.
[Special thanks to Walt Disney World for the perfect day and Rosie Pope for Atlas's amazing look.]
Atlas Shirt : Rosie Pope Whale Print Shirt  || Atlas Striped Shorts: Rosie Pope Ship's Ahoy Striped Short