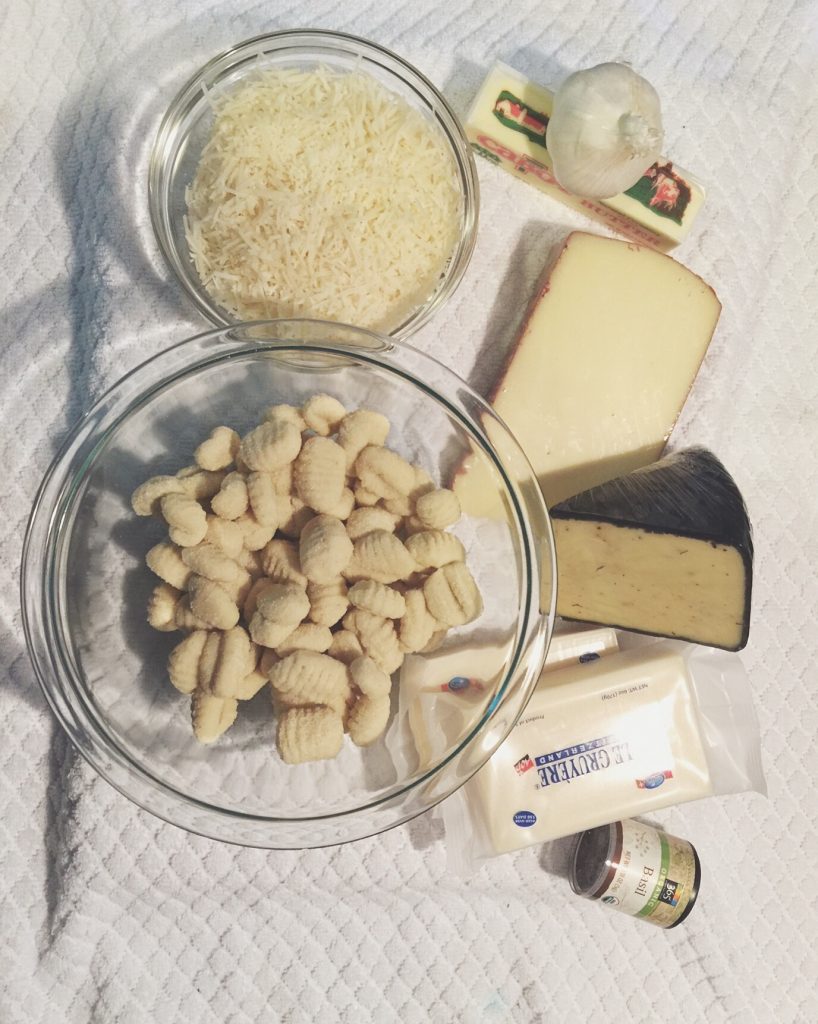 Fall is upon us, friends.  There is no better time of year to pull on a pair of knee-high chenille socks, crank up Van Morrison, pop a bottle of prosecco and spend some quality time in the kitchen.  Fall is crunchy leaves on the ground.  Fall is the smell of spice.  Fall is brisk air.  Most importantly, Fall is eating casserole dishes full of bubbly, gooey cheese covered things.
This recipe sees your classic mac & cheese and raises it a potato dumpling.  And more cheese.  It's everything right in the world, with half the fat!  Just kidding.  I'm positive that it's loaded with calories.  But with winter just around the corner, we could all use a little extra padding, right?  You can easily buy pre-made gnocchi, but for me, true comfort food means putting as much handmade love as possible into a dish, so I highly recommend making your own if you have the time.  The extra mile means an extra smile.  Or whatever.  CHEESE.
Gnocchi & Cheese
1 pound gnocchi  (buy it or see below for ricotta gnocchi recipe)
2 tbsp. butter
3 cloves garlic, finely chopped
3 teaspoons finely chopped shallot
1 tbsp. flour
3/4 c. whole milk
1 tsp. dijon mustard
1/4 c. fontina cheese, shredded
1/4 c. gruyere cheese, shredded
pepper
salt
dash of nutmeg
1 tbsp. dried basil
1/3 c. parmesan cheese, freshly grated
Heat oven to 375.  Boil gnocchi and drain.  Spray baking dish with non-stick spray and place the gnocchi in it, in one layer.   Using medium saucepan, melt the butter over medium heat.  Add in the shallots, sautéing for about 2-3 minutes.  Add garlic and cook another 30 seconds or so.
Whisk in flour until mixture starts to get thick and bubble, then whisk in milk and dijon for about 4 minutes, until it thickens.  Add the dash of nutmeg.
Add the fontina and gruyere, a handful at a time, allowing each handful to melt before adding another.  Season with salt, pepper and basil.
Pour cheese sauce over gnocchi.  Sprinkle parmesan on top.  Bake for 25-30 minutes until cheese is brown and bubbling like that glass of prosecco in your hand.
Ricotta Gnocchi
whole milk ricotta, 15-ounces
2 eggs, lightly beaten
1 1/4 c. freshly grated Parmesan
salt
black pepper
1 c. flour
Bring a large pot of salted water to a boil.
Mix ricotta, eggs and cheese in a bowl, with salt and pepper.  Add in about 1/2 a cup of flour and stir, continuing to add more flour to form a sticky dough.  The dough should hold its form when scooped.  Keep adding flour until it does.
Drop the dough, a tablespoon at a time, into the boiling water.  The gnocchi will rise to the top when it's done.  Drain and voila!  Homemade gnocchi.  Be proud of yourself.