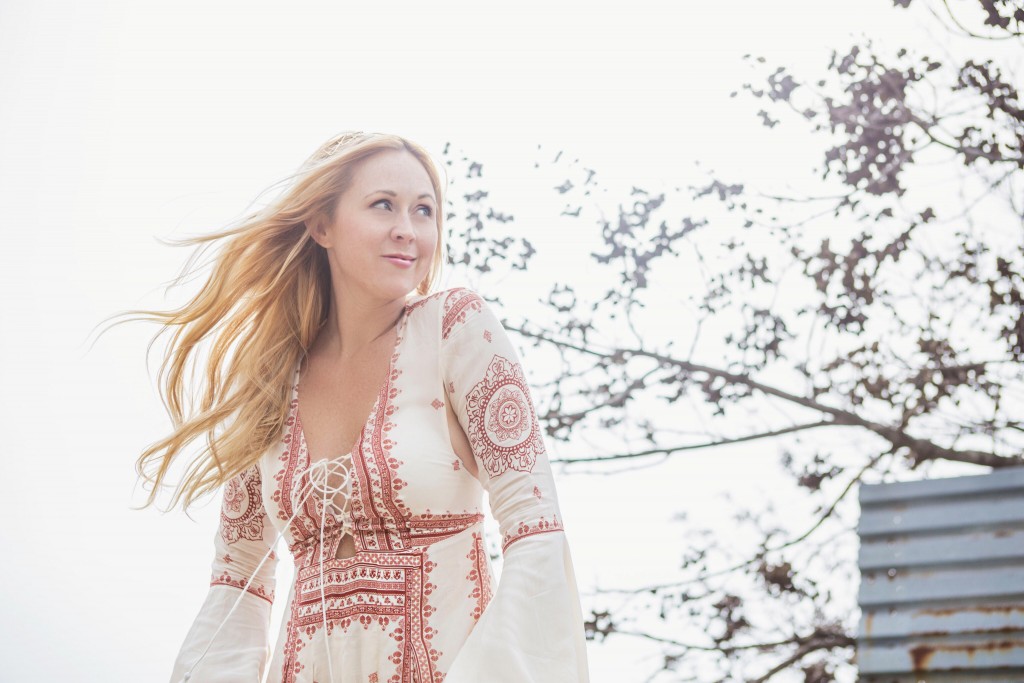 I'm not the kind of person who lives and breathes fashion, but if I'm not in my requisite mom uniform of yoga pants and leather jacket, I love to wear pieces that make me feel something.  Every once in a while, you come across an article of clothing that transports you.  It could be something that fits just perfectly off the rack.  Maybe a hemline that catches the wind at precisely the right moment, giving you an extra bounce in your step or a color that reminds you of a lake where you spent summers with your family as a child.  The right pieces can recall tanned shoulders, the smell of burning fires, the haunting silence before a kiss that you'll only later recall to be the last….pieces that make you want to dance and twirl, to be seen instead of trying to fit in and to live your life with a little more intent.
This dress is that for me.  It was a Christmas gift from Husboy and has been burning a hole in my closet since.  I remember seeing a photo of my mother taken before I was born.  She's wearing something very similar, standing in the bright mid-day sun, her straight, waist-length chestnut hair hanging all around her.  She looks happy and the space around her, though empty, somehow feels completely full.  It's such a beautiful image and this dress makes me feel like I'm channeling some of the infinite possibility in that photo.
There's a silver lining to this already gilded cloud:  The piece is a collaboration with Stand Up To Cancer, an incredible organization created to accelerate cancer research and bring new therapies to struggling patients faster.  In case you need reminding, 1 in 2 men and 1 in 3 women will be diagnosed with cancer in their lifetimes.  I'm sure many of you, like myself, have been personally affected or touched by the disease and are as hopeful as I am that our children will live in a world where cancer is no longer a looming threat.  Any steps we can take to help that goal along are always worthwhile.
Happy weekend, lovelies!
Dress: The Jet Setter Diaries SU2C X Revolve Santorini Dress (30% of proceeds go to SU2C) || Sandals: Joie Renee Gladiator || Atlas' Shirt: Kapital K || Atlas' Pants: Rosie Pope Denim Terry Joggers
Photos by Stephanie Eichman