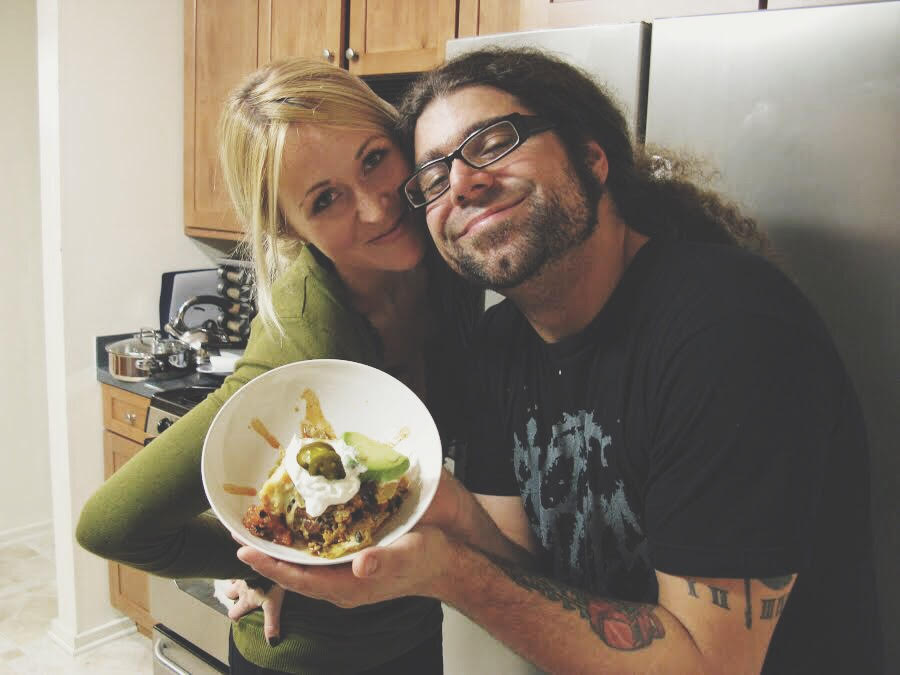 About 6 years ago, Husboy and I were asked to submit a recipe to a rock & roll cookbook called Mosh Potatoes (you can buy it at the end of this post.)  Naturally, we decided to share our favorite, a little thing we like to call Nacho Pie. (We even plated it as elegantly as possible for 2009, as evidenced above.)  Every single time we come off a tour, it's the very first thing we make to celebrate being home and bask in the luxury of being together again, in one place.  It's also a time to celebrate multiple layers of delicious, melted cheese.
A few days ago Husboy surprised Atty and I by coming home from a European tour a day early.  Naturally, we kicked off his triumphant return with a tray of this cheesy, bean-speckled magic.  After posting a pic on my Instagram story, I received an influx of messages requesting the recipe.  So here it is, my friends.  Sanchez Nacho Pie.
All I ask is you make these for the happiest, coziest days of your life–and for goodness sake, don't skimp on the cheese.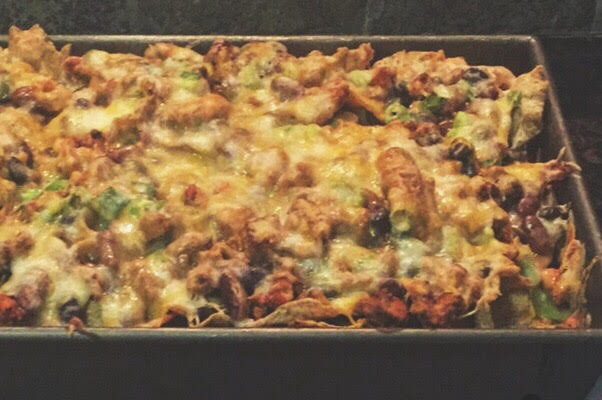 Nacho Pie
1 tbsp. extra virgin olive oil
2 garlic cloves, finely diced
1 pound lean ground turkey
1 to 2 packets Goya Sazon con Azafran
1/4 tsp. ground cumin
1 tsp chili powder
One 15-oz can Goya red kidney beans, drained and rinsed
One 15-oz can Goya black bean soup, half of the liquid drained off
1 green onion, green portion finely chopped
One 15-oz bag tortilla chips
2 c. cheddar cheese
2 c. jack (or taco) cheese
OPTIONAL GOODIES
Pickled jalapeños (Husboy likes to buy the 100-oz cans from Costco that last for eternity)
Sour Cream
Salsa
Guacamole
Fresh cilantro (if you're into that sort of thing)
Hot sauce
Preheat the oven to 400 degrees F.
Heat a nonstick skillet over medium.  Add oil and garlic, sautee for one minute, then crumble in ground turkey.  Season with one packet of Sazon, cumin and chili powder, mixing occasionally with a wooden spoon.
While the turkey cooks, heat the red beans, black beans and remaining Sazon packet together in a large saucepan over medium heat, stirring frequently, for about 8 minutes or so.  When meat is browned, add the cooked beans to the skillet and stir gently together.  Add the green onions to the mixture.
In a 9 X 13-inch pan, arrange one layer of chips (about half the bag.) Cover with half the meat and bean mixture and cheese, so there are two layers.  Bake for 5-10 minutes, until cheese is melted and bubbly.
Enjoy immediately with optional goodies, a Corona and Netflix.
Buy Mosh Potatoes